Superior's O.D. mount flange facing machines are the culmination of 20 years of experience and research. The result is a cutting edge outside diameter (O.D.) flange facing machine that blows the competition away. Available to rent or purchase in either aluminum or steel, they are easy to set-up and operate.

Our O.D. flange facing machines have tremendous power and versatility while remaining safe to operate at all times. Whether you are facing, beveling, or turning pipe or pump flanges, Superior's O.D. mount flange facer is the tool to use.
Power & Precise Machining Performance
Available with either a hydraulic or pneumatic motor, our heavy-duty flange facing machine provides strict performance and consistent results. The belt-driven machines use adjustable cam tensioners driven by a motor producing precise and repeatable results. Our 2.4. HP pneumatic motor provides tremendous power and speed, resulting in higher removal rates and a job done quickly.
Versatility
Both of Superior's O.D. Mount Flange Facing Machines were designed to be rigid and stable enough to accommodate all types of flanges to be machined. Our O.D. flange facers are driven by a belt-drive system, which provides an extremely smooth feel. They are powered by a pneumatic motor, which provides the most torque available on this size of a machine on the market and variable RPM controls. They are available in both radial and axial feeds, as well as manual and automatic feeds.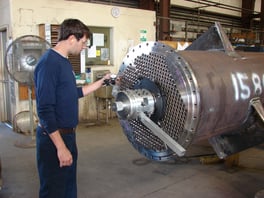 Superior's steel O.D. mount flange facer is available in 32", 42", 52", 62", 72", 82" and 102" sizes. An optional indicator jig is available for precision measuring. Comparatively, superior's aluminum O.D. mount flange facer is available in 10", 13", 16" and 20" sizes.
Our flange facers are suitable for a wide range of applications in industries including refineries, chemical plants, shipyards, manufacturing facilities, and petrochemical refineries, and can machine raised face flanges, ring type joints, and grayloc flanges. Our machines are equipped with ergonomic lifting handles and adjustable jaws for a quick 4-jaw set-up.
Safety
Both O.D. flange-facing machines have an auto-feed system, which helps keep operators' hands safe from moving parts. Additionally, it keeps the job running smoothly.

Our O.D. mount flange facers have a low-pressure safety interlock system that prevents unintended re-starts after the loss of supplied air pressure. They also come equipped with an E-stop for quick stops & controlled re-starts. Our modular and lightweight components are more comfortable to transport, thereby contributing to a safer work environment. SPR's O.D. mount flange facers are considerably lighter than similar products on the market; as such, they are easier to work with, maneuver, and haul.
Superior's O.D. Mount Flange Facer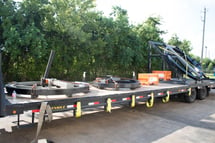 Superior can help whether you are in the market to rent or purchase an O.D. mount flange facer. We have the inventory, the experience, and the knowledge to answer your questions. Rest assured that you are investing in a top-quality machine when you work with us, and you will be backed with Superior's customer service. We look forward to speaking with you!